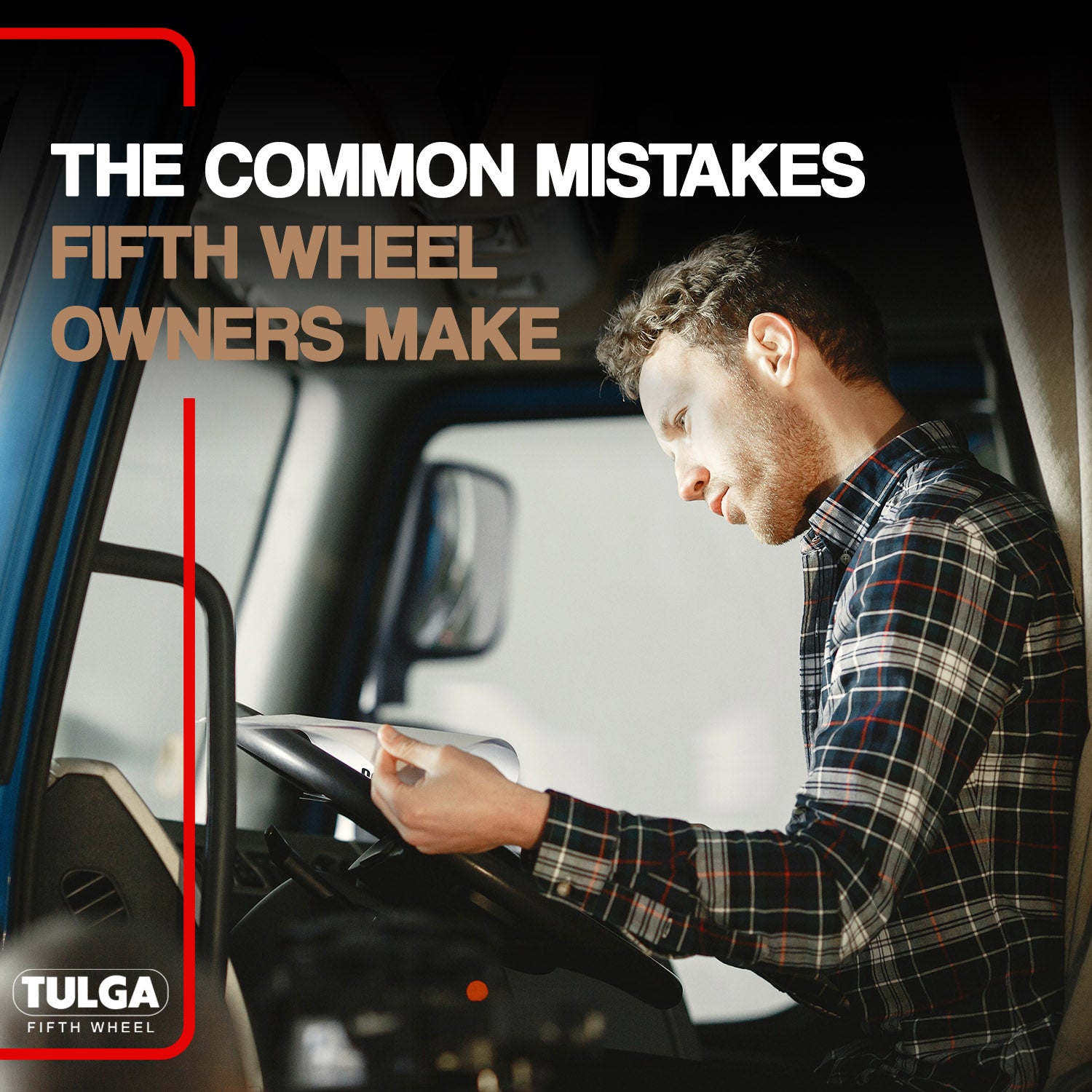 The Common Mistakes Fifth Wheel Owners Make
When buying a fifth wheel, there are many things to think about, from the quality of the materials to how it will be used. However, the process does not come to an end even after you have made everything ready for setting off. There are several common mistakes the fifth wheel owners usually make in their first experience. But there is no need to be concerned since you are not the only one to encounter such minor problems. With practical advice and an emphasis on the important points, you'll be a confident expert in handling a variety of tasks with your fifth wheel. In this article, we will go through the most common mistakes for your attention. 
Ignoring a Checklist
You got the 5th wheel, read the handbook, and believe you have enough knowledge to start your trip? Think again: reading the manufacturer's manual is the initial step, but there is much more to it.
Make a checklist before hitting the road as a first-time fifth wheel owner. You must cross every "T" and dot every "I." If you're traveling in a travel trailer or fifth wheel, for example, you'll need to take more steps than if you're in a motorhome.
Start your preparations a day or two before your departure date to avoid becoming overwhelmed by the excitement and nervousness. Fill up your tow vehicle or rig with gas to prevent stopping a few hours into your journey.
Clean, strap, and store everything you'll need for your journey. Here's a handy checklist to get you started:
Before moving, make sure the stabilizer legs are up. Many drivers overlook this otherwise straightforward procedure.

Shut all windows and vents.

Examine the brakes and turn signals.

Turn off the water heater and the water pump.

Inspect the tire pressure to verify it is not low.

Check that the tailgate is closed. It's another common blunder that most individuals make.
You can add anything else that you believe is important to your trip to the list. When you've completed a task, mark it as completed and go on to the next. Using a checklist will ensure that you don't get trapped in the middle of nowhere out of gas and that nothing is left behind.
 Lacking a Clear Purpose
Many people are misinformed and unprepared to purchase fifth wheel. If they don't have a clear purpose as to why they need a fifth wheel, they usually discover this too late. After already setting off for long journeys, they notice that the fifth wheel is lacking in some areas. For example, the water becomes too cold because the temperature control fails, or there is a small fire and no extinguisher is available.
With the appropriate information, these errors can be avoided. Here is a list of what each 5th wheel requires:
A surge protection device

Toilet chemicals 

Electrical adapters 

Sewer kit 

Water pressure regulator 

RV-friendly toilet paper 

Drinking water hose 

Tire pressure gauge 

Leveling blocks 

Wheel chocks 

Extension cords 

Electrical and duct tape 

Shovel and extra cotter pins 

Battery jumper cables and flashlights 

Extra motor oil and transmission fluids
Make sure you have the necessary kitchen and cooking gear, clothing and bedding, and food necessities. Pack personal things like toiletries, as well as camping and outdoor recreation equipment. If you have children, the latter is critical. Add anything else you think you'll need, but keep it to the necessities.
Not Working on the Route
Thanks to modern technology, such as Google Maps, we were saved from a number of potentially disastrous situations. Like many things in life, though, maps can be unreliable—even at crucial moments. Consider being lost in a strange place with no way to contact anyone or find out where you are.
Does that not seem frightening? Many drivers make the rookie error of not double-checking their directions or bringing a paper map along because they were too busy staring at their phone. Don't just blindly key in the address and set out; double check that you have the correct route.
If you don't want to become lost in the wilderness when your phone dies, you'd better learn how to read a map. To the contrary, truck drivers should not be relied upon for navigational assistance. It is possible to go for miles without seeing any, and highways aren't necessarily the safest places to be. Purchasing a GPS system designed for RVs is one method to avoid getting lost on a winding mountain route. The tracker maps provide labeled zones that are simple to interpret. It's an aid that can help you become more careful in the future.
Not Giving a First Trial
It's not a practical idea to figure things out as you go along. Don't think you can hit the road in your fifth wheel the day you purchase it. Don't skip out on the trial run, since even if the first day goes off without a hitch, the second might not.
Start getting used to the nomadic lifestyle with a short camping trip of a week or two. As an example, you should be able to reverse out of a parking spot without hitting anything and you should be able to up a tent without any problems. To feel more at ease on the rod and to learn the ins and outs of the fifth wheel, it is recommended to go for a practice run. To get your feet wet, try renting a fifth wheel, and then, once you've got the hang of things, buy one of your own.
Don't rush things if you want to learn as you go. A person should enjoy the trip itself rather than just the final destination. Moving too quickly is not just exhausting but also risky. Recognize your limits and give yourself some downtime. It's a great way to keep your mind sharp and stay aware, both of which are important for preventing accidents.
Disobeying the Campsite Rules
Campgrounds are a common stop for fifth wheelers before hitting the road again. Within a 500 mile radius, they are familiar with the restrictions of every campground. However, things are different for a newcomer. Just like you need an account to use a dating site, you'll need to reserve a spot at a campground before you can stay there.
It's possible you won't be able to stay at a campground because: 
They only accept trailers and fifth wheels that are less than ten years old.
There is no space available in the fifth-wheel campground by the time you get there; the campground does not accept Class A fifth-wheels; the campground does not allow children; the campground charges a child tax, which you are unwilling to pay; the campground only accepts people over the age of 62; the campground only accepts seniors.
We recommend finding and calling the campground in advance. On the flip side, it is possible to get access to the camp but then be expelled for breaking the regulations. You should respect the rules of the campsite because it is run like a community.
Generally speaking, these rules are not overly complicated or onerous to follow. The camp handbook contains the standard set of rules, such as:
Keeping your distance from neighboring campsites.
It's important to remember two things when camping with kids or dogs: 1) keep the kids away from other campers, and 2) don't let the pets out of the tent.
Not Considering the Dumping
People who have never used a fifth wheel often ask what happens to the contents of the bathroom and toilet. The obvious solution is a dump station. Most new fifth wheel owners who have never participated in this time-honored ritual fumble when unprepared.
In addition to squandering your and others' time, this error makes you unpopular among fellow campers. People-oriented individuals will not appreciate this. Before arriving at the dump station, familiarize yourself with how to empty your tank to prevent making this error.
Practice as much as possible before hitting the road and make sure you understand the procedure. The fifth wheel manual and various YouTube tutorials will be of assistance. Put everything you need in a single location for convenient access at the disposal station.
Not Giving a Last Walk-around
As the term implies, a walk-around involves circling your fifth wheel and confirming that everything is in its proper place. Circulate the recreational vehicle twice, and a third time if you so desire. You must ensure that nothing is out of order. 
You may drive away with your sewer hose trailing behind. It occurs more often than you might believe.  
Your antenna, lights, tow truck connection, windows, and vents during your walk-around.

That you closed your storage doors 

Ensure that your fridge and pantry are closed

To check that your signals, brakes, and headlights are functional.
Lastly, while driving, you must pay close attention to the fifth wheels sounds. A clanging sound indicates that something is out of place and requires adjustment. Immediately cease and attend to it. Remember that your vehicle is your home, and treat it accordingly.
These steps might seem simple or minor things to check. However, mind that many unexpected problems occur due to ignoring the basic. So, make your own checklist now to have a flawless travel experience.