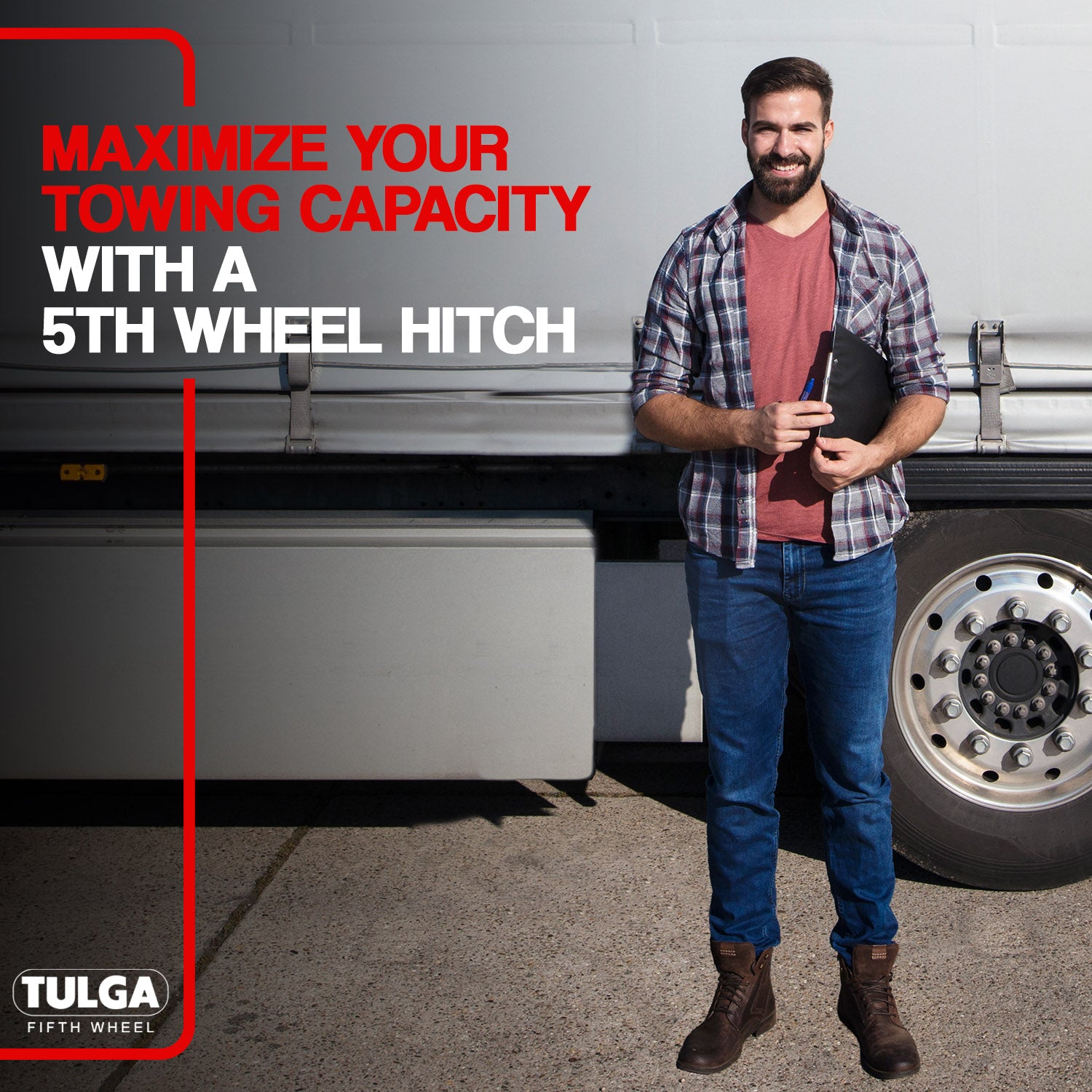 Maximize Your Towing Capacity with a 5th Wheel Hitch
When shopping for an RV that can be towed behind a vehicle, there are a number of considerations to make. Obviously, aspects such as the quality of the recreational vehicle, the layout of the flooring, and the furnishings all play a role. Nevertheless, the weight of the RV and the towing capacity of your vehicle are two of the most important aspects to take into consideration.
Today, we are going to go quite deeply into this issue, discussing the relevance of towing capacity as well as the ways in which to increase towing capacity and improve towing performance. You should now have all the information you need to determine whether or not your truck is capable of towing the RV you want, as well as what adjustments you might need to make to make that happen.
How can the towing capacity of a car or SUV be raised so that it can draw a recreational vehicle that is a little bit bigger? Naturally, you end up making a ton of different upgrades!
With the following upgrades, you will be able to safely tow a greater weight without risking damage to your trailer, all while maintaining the safety of your passengers and other drivers on the road.
Before we go into the mechanics of boosting towing capacity, let's take a moment to think about why enhancements of this nature are made in the first place. Why is the weight of the RV so important? Why would someone want to increase the amount of weight that their car or SUV is capable of pulling?
Practical Tips for Expanding Your Space and Capacity
To begin, you will have to shell out some cash for the suitable kind of hitch. It should go without saying that you have to choose a hitch that is able to hold the weight of your trailer, but just in case: If you want to help your car tow a larger bumper-pull trailer, another option that you have is to look into purchasing a weight distribution hitch.
The weight distribution system does exactly what you might expect it to do: it distributes the weight of the trailer across a greater area of the chassis of the tow vehicle, as opposed to only the hitch reception region. Your truck's suspension will benefit from this upgrade, and it will be able to pull more weight as a result.
Towing behind a car is a challenging endeavor. To get it moving in the first place requires a greater amount of effort, and once it is moving, it needs to be able to stop the load. Towing with a vehicle that is not appropriately prepared is, of course, fraught with risk. Additionally, it's bad for the automobile and could lead to a lot of expensive problems, both of which are things that you really don't want to have to deal with.
Before getting on the road, it is extremely important to be aware of the maximum load that your automobile is able to support, which is why every automaker offers a tow capacity rating for each and every vehicle that they produce. Before acquiring a travel trailer or fifth wheel, you need to determine whether your truck or SUV is capable of towing the additional weight, and you should choose an RV that has a dry weight that is lower than the maximum towing capacity of your vehicle. The gross vehicle weight rating of the recreational vehicle provides an accurate indication of the possible weight of the RV when it is completely loaded (GVWR).
So, can you haul more than my vehicle's towing capability allows? Maybe something you consider if you are unable to locate a recreational vehicle (RV) that satisfies your requirements and weighs less than what your truck can pull when it is completely loaded.
Your automobile is probably capable of carrying a little bit more weight than it was originally intended to. Increasing a vehicle's towing capability, on the other hand, is a project that a lot of people would prefer not accomplish because it is challenging and expensive.
If you are up for the challenge, continue reading to learn how to improve the towing capability of a car.
The average weight of a 5th wheel hitch is around 200 pounds, making it a significant piece of equipment. The weight that is loaded on by the hitch results in an increase in the payload capacity of the truck. However, if your truck is able to pull a larger pin weight, upgrading to a heavier trailer may increase the payload your truck is capable of carrying. Because of this, there is a possibility that you will surpass the GVWR (gross vehicle weight rating) of your truck, which can lead to a variety of issues. There is no tried and true method to increase the GVWR of a vehicle that does not involve completely rebuilding it.
You can improve your towing capacity and lessen the amount of additional cargo that is required by a normal fifth wheel hitch by upgrading to a gooseneck hitch for your fifth wheel. This will allow you to tow more weight. In the event that the bed of your truck does not already have a gooseneck ball, you may always have one installed.
The majority of modern automobiles are designed with the goal of providing their drivers with the greatest possible fuel economy. Plus, they reduce the amount of sacrifice required in other areas. The problem is that doing so can lower the car's horsepower and torque, making it a less effective vehicle for towing.
You can solve this problem by modifying the settings in the computer of a truck, which will then provide you with the necessary amount of power to pull greater loads.
Even if your vehicle has a higher horsepower and torque rating, you won't be able to drive if the axles on your car are unable to hold the weight of your trailer. As a result of this, we also recommend replacing the axles on your vehicle with heavy-duty versions and making sure that the differential is also replaced with components that are appropriate for its heavy-duty status.
Rather than taking the traditional route of building a vehicle, one alternative is to use RV parts instead of truck parts. These are meant to haul substantial weights and can frequently be mounted onto the body of a truck. It is advised that this task be delegated to professionals so that safety can be ensured.
With the heavy-duty axles and the programmer, you should at least be able to get the vehicle rolling in the right direction. When pulling a large weight, however, coming to a complete stop can be quite difficult. In point of fact, this is typically the more significant issue.
Because of this, you should consider upgrading the brake pads and rotors on your truck, making sure to get the thickest alternatives that are now available. You should also put a trailer braking system on your RV and make sure it is calibrated properly so that when you apply the brakes, your trailer will help you stop rather than push you forward. This can be accomplished by ensuring the system is properly calibrated.
If you use the upgrades that were discussed above, you should be able to begin using your bigger load right away. However, you should not always expect excellent performance from the car you are using to tow. It is crucial to know how to improve a truck's towing performance in addition to knowing how to increase a truck's capacity for towing in order to have a trip that is trouble-free and goes smoothly no matter where you go.
When pulling a trailer, the engine of a vehicle has to work much harder, which might cause it to reach dangerously high temperatures. Given that the purpose of a radiator is to maintain a comfortable temperature, it stands to reason that increasing the size of the radiator will result in an even more effective cooling effect.
If your pickup truck or sport utility vehicle (SUV) has two radiators, you might want to consider upgrading both of them to larger models to ensure that the heat is distributed as evenly as possible. In addition to this, you need to make it a habit to perform routine checks on the transmission fluid and the engine oil.
The final choice is to travel in a motorhome as opposed to a trailer. This will completely eliminate the requirement for a large truck because motorhomes are designed to be driven independently and can undoubtedly support their own weight without any problems. A smaller automobile will serve just fine if you want a vehicle to use after you get to the campground.
Nevertheless, because of their high cost, motorhomes may not be a good option for you.
As you can see, there are numerous strategies for overcoming a tow capacity issue so that you can go on the open road. We're confident you'll find a solution that works for you and your budget so you can focus less on towing capacities and more on hiking, fishing, campfires, and other camping fun. Whether you decide to upgrade your current vehicle to increase the towing capacity, buy a new vehicle entirely, or even choose a different RV, we're confident you'll find a solution that works for you and your budget.