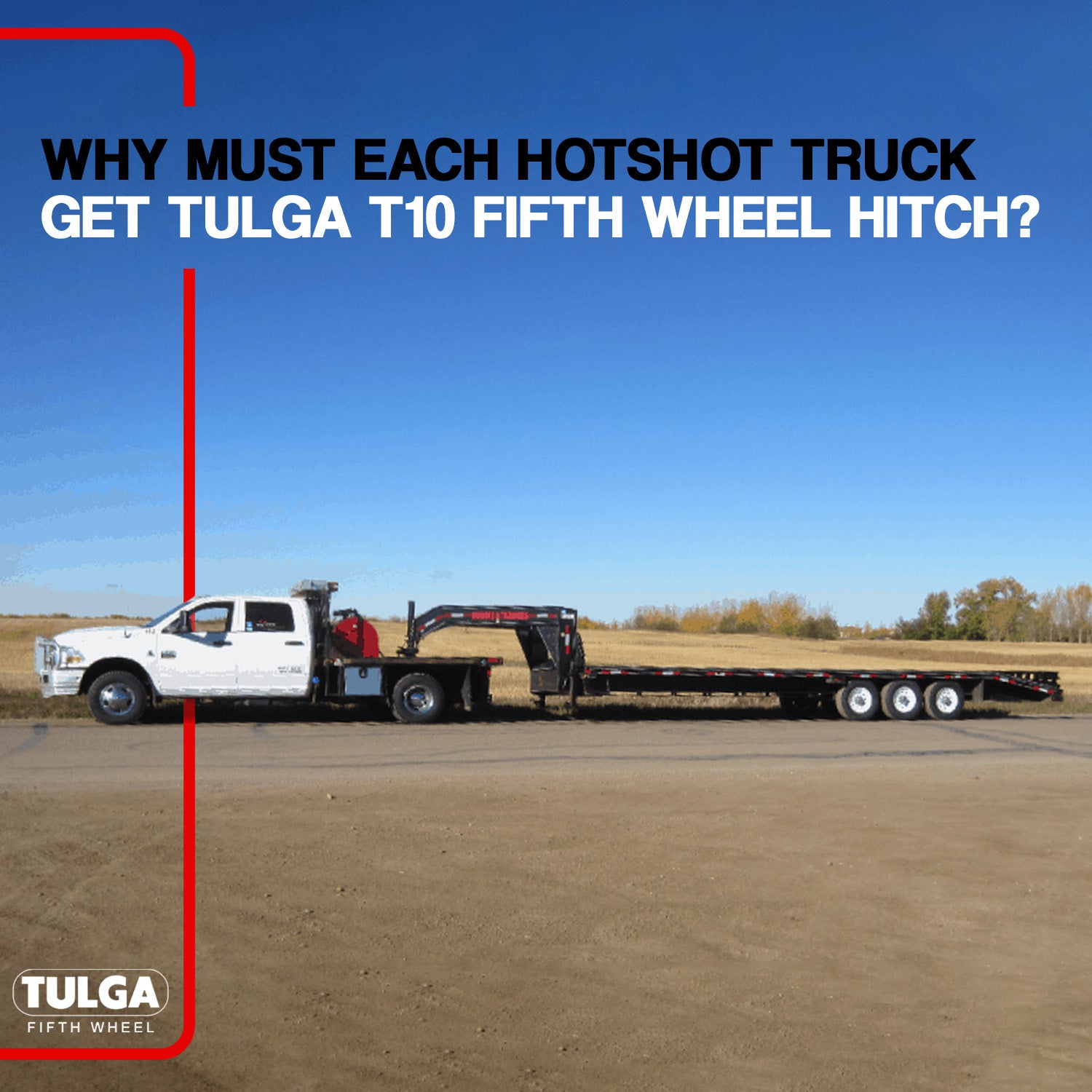 Why must each hotshot truck get Tulga T10 fifth wheel hitch?
Whatever the subject is, starting up a new business means a multifaceted task. It not only requires a plan of conduction, financial outline, and passion but also necessitates providing the best equipment that will keep the business sustainable. However, when it comes to commencing an international or long-distance business that includes durability as a must factor, the material quality becomes even more significant since it has to do with serious health and safety concerns. One recently popularized business as such is hotshot trucking. Depending much on the use of a fifth wheel hitch attached to an appropriate size truck, hotshot trucking is highly preferred among long-distance drivers and even non-professionals. This is mainly because hotshot trucking enables independent working conditions and schedule, leaving one a flexible operation field. Nevertheless, like all the other jobs, be it desk jobs or not, hotshot trucking has its own conditions. In this article, we are going to go over these factors and point out why must each hotshot trucker prefer TULGA Fifth Wheel Hitches for operation.
As for the first step, let us get familiarized with the business briefly:
The essential opportunity hotshot trucking offers is its fast delivery service. Therefore, the hotshot truckers are sought after by shippers and brokers who are in need of prompt delivery of loads that are on the lighter side but still require transportation. The delivery of time-sensitive and project-critical loads, such as agricultural equipment, construction equipment and materials, heavy machinery, and more, is the area of expertise of these drivers and operators.
Usually, hotshot drivers use super-duty pickups with trailers rather than heavy-duty vehicles. One significant reason is that heavy-duty trucks are relatively bulky during operation, with less manoeuvre ability compared to light-duty trucks. Especially in urban areas, this disadvantage becomes a considerable problem since the main point in hotshot trucking is prompt delivery in the most practical way.
Another point to dwell on is that the business of hotshot trucking has the potential to be successful if it is conducted correctly. If you are running a hotshot trucking business, you have the option of either becoming an owner-operator, in which case you would own and run a hotshot business under your own MC number, or leasing on with another company. An owner-operator is someone who owns and operates a hotshot business. In this article, we will also discuss the benefits and drawbacks of the business, the steps necessary to get started, and some industry secrets that can help you advance in your career.
The Official Procedures and Physical Requirements of Hotshot Trucking
The hotshot trucking industry is frequently where many drivers get their start. The Federal Motor Carrier Safety Administration (FMCSA) is trying to dissuade new drivers from getting their commercial driver's license (CDL) and then immediately purchasing a semi truck. This is a career move that frequently ends in failure and is discouraged by the FMCSA in light of the increasingly stringent insurance requirements.
You would be better off gaining experience behind the wheel of a hotshot truck while your commercial driver's license (CDL) is being processed. This way, if you ever choose to switch over to driving a semi, you will have a lot simpler time meeting the requirements to be insured on such a vehicle. Additionally, the regulations and requirements for operating a hotshot business and a semi business share a large amount of overlap; consequently, gaining experience in the hotshot industry is the ideal preparation for transitioning to transporting larger freight (if that is the line of work you are interested in pursuing).
There is a lower barrier to entry, which is another key benefit of hotshot trucking. Additionally, there are lower operational costs associated with this type of trucking. Payments for trucks, for example, can go as high as $2,500 to $3,000 per month for Class 8 semis, although payments for pickups are often closer to $1,000 per month. In addition to this, the fuel economy of smaller vehicles is typically superior. Because of this, hotshot truckers are often able to earn the same amount as, or even more than, Class 8 drivers. The savings made from these cost-cutting measures are frequently given to the customers. Because of the greater costs associated with operating heavy-duty trucks such as semis, drivers and carriers of these types of vehicles are required to charge extra for less than truckload (LTL) and partial freight in order to ensure that the loads are profitable.
However, given how much simpler it is to break into the hotshot trucking industry, you can expect to face some really intense and consistent levels of competition. Because of this, it is essential for owner-operators to place a significant emphasis on the quality of the services they provide to prevent competitors from offering lower prices.
Start With the Equipment
To begin, hotshot truck drivers are required to have access to a pickup truck as well as some form of flatbed trailer for transporting cargo. Although it comes down to individual taste, I think you'll find that a dually pickup truck is the best option. When it comes to trailers, bumper pull trailers, gooseneck trailers, tilt deck trailers, and dovetail trailers each have their own set of benefits and drawbacks, depending on the cargo that is being transported. After that, some of the minimal essentials include tarps, chains, and straps to secure things. When you're driving a hotshot, you won't ever have a weight that's high enough that it would demand something that's incredibly thick, so you don't need chains that are particularly durable. Tarping is a skill that has a bit of a learning curve (imagine wrapping a very huge Christmas gift; this is how tarping works), but it is useful for preventing moisture damage to freight. The standard recommendation for hotshot truckers is to keep twenty straps with ratchets, four chains measuring 20 feet in length and 3/8 inch in diameter, four binders, a winch bar, and two drop tarps measuring six feet in length in their trucks.
Nevertheless, the most important equipment unit in hotshot trucking is the fifth wheel hitch: the key unit that connects the truck bed to the fifth wheel that undertakes the whole load. As the 5th wheel is attached to the truck bed, it receives the utmost force during operation. Therefore the connection point should be secured and steadily installed to the tow vehicle to avoid possible dispatches and operational problems. No doubt that to provide such a standard, you must choose your products from the best quality.
TULGA Fifth Wheel Hitch Corporation particularly focuses on fifth wheel hitch production with its relevant equipment. Our product catalogue offers you 5th wheel hitch plates, heavy and light duty brackets to increase height, with easy payment options and fast shipping. These specially designed products stand exclusive by their availability and practicality in terms of their installment.
Why choose TULGA Fifth Wheel Hitch?
Besides their material quality, there are several reasons to choose TULGA Fifth Wheel Hitch products for preparing your hotshot business. Yet let us begin by introducing the former. 
T10 Fifth Wheel Hitch Plate
The fifth wheel plates establish the link between the towing vehicle and the semi-trailer hitch, the tractor unit, the dolly, or the driving trailer. Because there aren't many vehicles that use a fifth wheel configuration, the couple typically has to be introduced at the bottom of an elevated truck like it would in a dragging vehicle.
As for its operation procedure, a pin that protrudes downward and is known as a king pin is used to link the trailer to the fifth wheel hitch. This pin is used in conjunction with a plate that sits atop the plate that constitutes the fifth wheel hitch. However, the king pin may still pivot to allow turns despite being locked into position, so it is safe to use within the hitch.
TULGA T10 Fifth Wheel Hitch Plate suits the hotshot flatbed pickup trucks, trailers, RVs, and toy car haulers. The product is particularly designed for hotshot trucks. It displays formed steel as the product material, which adds to its durability and sturdiness. With a 5-year warranty, T10 Fifth Wheel Hitch Plate stands intact for a long time if you stick to the maintenance advice. It is 125 lbs with a 36 000 lbs drawbar capacity. 
Heavy Duty Brackets to Increase Height for T10 Fifth Wheel Hitch for Pickup Trucks
While the 5th wheel hitch plate plays a critical role in operation, installation is another issue to consider. For this procedure, TULGA offers the heavy duty brackets with a range of inches appropriate for your truck and plate. Like T10 Fifth Wheel Hitch, this product is also made from formed steel with a 100 mm base. 
Note that this product is suitable for use with flatbed trucks manufactured by Dodge, Ford, GMC, or Chevrolet. If your truck does not have a bed, you will probably need to make some alterations to it or add an additional sheet of steel to the chassis.
Anti Rattle Hitch Tightener Stabilizer
The hitch tightener is compatible with tow hitch receivers measuring 2 inches and 1.25 inches, such as those manufactured by Curt, Rola, Yakima, Inno, Draw-Tite, Blue Ox, Hidden Hitch, Thule, TULGA, and U-Haul, amongst others. It is suitable for use with hitches on SUVs, vans, trucks, RVs, cars, and trailers since it is compatible with all hitch classes, including I, II, III, and IV (1, 2, 3, and 4), and it is available in both 2" and 1.25" variants.
Includes a heavy-duty U-bolt made of stainless steel and a thick powder-coated plate, both of which are designed to withstand all loads and weather conditions. Cargo carriers, hitch racks, bike racks, and the trailer ball mount are all suitable for use with this product since it eliminates rattling, wobbling, rocking, and hitch movement. The innovative design of the TULGA hitch tightener makes it the industry standard for the most effective anti-rattle hitch tightener.
Heavy-light Duty Kingpins
The semi-trailer and the tractor unit are coupled together by use of a kingpin. This product is a component of the coupling. There are a variety of configurations available, which makes it possible to properly install lord pins onto a trailer. These pins are up to the most strict standards when it comes to health and safety. They are transported from magnificent, covered, manufactured rooms that have been examined to ensure that there are no cracks in any part of the product. The process of exchanging kingpins or switching them out is brisk and uncomplicated. In a short amount of time and with little effort, the kingpins can be changed out or replaced.
It is imperative that national regulations in addition to the mounting and working directions provided by Tulga Fifth Wheel Co. be adhered to in order to properly install, alter, or replace a kingpin. There are also kingpin adapters available, which can convert kingpins with a diameter of 2 inc to kingpins with a diameter of 3.5 inc.
What About the Legal Issues?
Although membership in the Owner-Operator Independent Drivers Association (OOIDA), a non-profit organisation that advocates on behalf of independent truck drivers, isn't for everyone, we typically recommend that independent truck drivers investigate the possibility of becoming members. OOIDA is able to assist with inspections, audits, and other logistical odds and ends, which might be advantageous if you run a single-truck operation. The costs of membership are manageable, and overall, it seems like a worthwhile organisation to be associated with. 
Considering these legal procedures, Iindependent truck drivers have access to a superior all-in-one platform through TULGA Fifth Wheel Hitch Corporation. It not only gives you access to the least expensive tools, but you'll also find other things, such as the essential gear, such as 5th wheel hitch adapters, trailers in a variety of sizes, 5th wheel hitch plates for various kinds of truck models, and so on. In addition, TULGA provides data on the most recent truckload rates, which enables you to negotiate the best possible costs for rush loads.
Spreadsheet software known as Airtable is yet another tool that may assist you in operating and managing your company in a significantly more effective manner. Airtable enables you to handle all of these facets of your business from within the same application, which eliminates the need to have separate programs for entering loads, monitoring spending, and creating invoices. In this method, load information will enter immediately into your invoices, and you will also be able to maintain an accurate record of your spending. Airtable's core functionality can be used without paying a dime, however, upgraded subscription plans can be purchased for $10 or $20 per month to have access to more data and services.
Airtable is one of those technologies that, if you learn how to use it, can truly empower small businesses in a variety of ways. Once you learn how to use it, you can customize it to a great extent.  
Conclusion
There is no personal endeavor to run a private business that is simple to attempt. However, if you have the courage and passion to take the initial move, you may grow your modest hot shot trucking firm into an international transportation corporation. All it takes is some confidence, qualified equipment, and a reliable product provider. Being a hot shot truck driver is worth it because it removes the need for a broker to be involved in the transaction. As a result, you will keep the entirety of the profit for yourself. Additionally, it enables you to specialize your destination according to your profit, offers a flexible work time, and does not require a driver's license to operate a commercial vehicle.
If you still have concerns about the income you may earn from hot shot trucking, be sure to recieve satisfying amounts once you set the appropriate route and operation plan. Regular cargoes have the potential to bring in a gross income of $60,000 to $120,000 per year, provided that your company is well-established, well-managed, and located in a good area. The majority of hotshots have expenses that account for nearly half of their total revenue. These expenses include things like gas, maintenance, insurance, permits and fees, and tolls.
When you go to new locations, you introduce yourself to new people and open the door to potential professional connections. This is of the utmost significance in enterprises of this nature since a contented client will gladly refer your services to their neighbors, so gradually increasing the area to which you have access. You'll have the ability to meet stringent deadlines if you go into hot shot trucking, in addition to the ease with which you can get started in the business. Any deadline, even for expedited delivery, will not be taken into consideration due to the practical preparation and adaptability of the solution.
Given these pieces of information and introducing TULGA products to you, we suggest working on profitable roots as well as mechanical installment and maintenance issues. If you are interested in more about hot shot trucking, just visit our blog now! We care for your security, safety, affordability, and success.