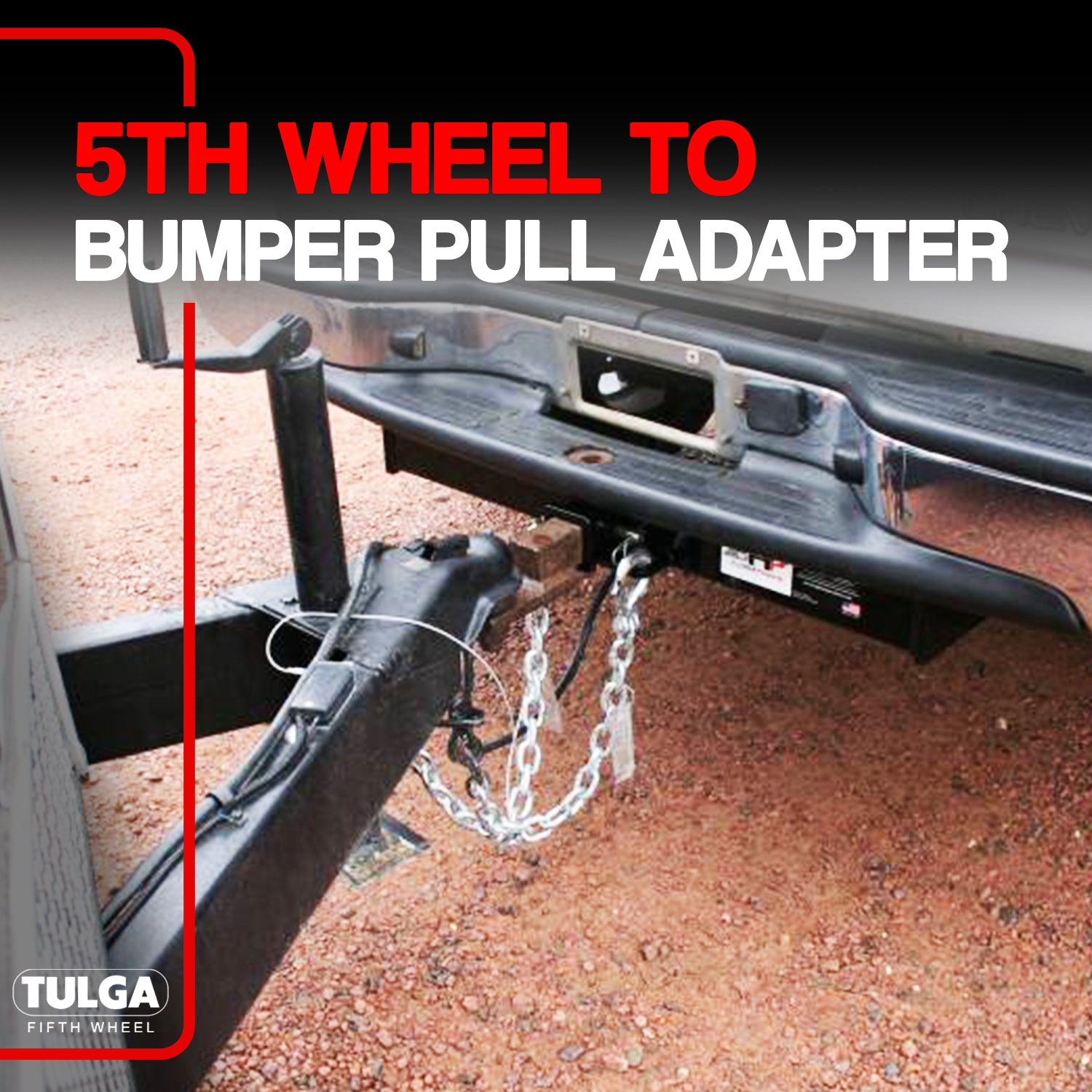 5th Wheel to Bumper Pull Adapter
Are you looking forward to commencing on a new long-lasting -and maybe much more adventurous- experience on the roads like us? Do you also consider the comfort and quality of this trip?
Well, then, you are one of those "fifth wheelers" who are to create their home on the road by themselves. Thanks to recent products that enable many common automobiles to turn into towing vehicles, this task has become easier than you would suppose. Besides, TULGA Fifth Wheel products are always present to make your journey safe and comfortable at best. With simple but sturdy adapters, you can manually install a fifth wheel hitch to your automobile. For this operation, usually, a trailer hitch is preferred among truckers. However, a trailer is much more functional in heavier duties. On the other hand, if you are only considering the 5th wheel as a camper or additional room for your travels, a bumper hitch shall well serve efficiently enough. Moreover, you can remove your fifth wheel from the towing vehicle, as the bumper hitch is not permanently attached to your truck bed, which is the case with a trailer hitch. Hence for practical uses, the bumper hitch is more common rather than larger trailer hitches. Let us now get to know more about the bumper hitch and learn how to turn your RV into a fifth wheel.
How does a Bumper Hitch Operate?
First of all, it is important to know how these devices operate on roads, how they are attached to each other, and what their functions are within this process. Basically, a bumper hitch is attached underneath the rear bumper of an automobile. It features a standard ball mount receiver that is 2 inches in diameter as well as attaching hooks for safety chains. The weight rating of a bumper hitch is determined by the weight rating of the bumper it is attached to. Bumper hitches are often utilized for light-duty towing, such as that of RVs or domestic vehicles.
Bumper hitches come in several different types, each of which is designed according to the type of rear of your vehicle. Therefore, not all the bumper hitches may be suitable for the automobile you have. That is why one essential thing to consider is the physical features of your towing vehicle. The capacity to pull a trailer is highly desirable for a variety of reasons. However, not every vehicle leaves the factory equipped with the necessary components to safely tow other vehicles and weights in addition to their own. The correct attachment, such as a step bumper or a receiver hitch, must be fitted.
For different functions, various bumper hitches are produced. A step bumper is, for example, precisely what it sounds like: a bumper that also has a step integrated into the frame of the bumper. Some step bumpers can be used as towing hitches, however not all of them can perform this function. These step bumpers often come with a mounting hole for a hitch ball. A receiver hitch is a specific kind of towing hitch that is attached to the chassis of a vehicle.
Which Type of Hitch Do You Need?
One of the frequently asked questions is what the difference is between a bumper hitch and a receiver hitch. Well, their function may present quite little difference, yet the part they attached to your towing vehicle distinguishes two. A step bumper is precisely what it sounds like: a bumper that also has a step integrated into the frame of the bumper. Some step bumpers can be used as towing hitches, however not all of them can perform this function. These step bumpers often come with a mounting hole for a hitch ball.
A receiver hitch is a specific kind of towing hitch that is attached to the chassis of a vehicle. The front or underneath the bumper is a possible attachment point for some receiver hitches, although they are less common. Towing a trailer behind your vehicle requires a type of hitch called a rear-mount hitch. On the other hand, if you wish to tow your car behind an RV or a heavy-duty truck, you will need the front-mount style of hitch.
 The principal function served by a step bumper, bumper hitch, and receiver hitch diverges significantly from that of a standard hitch. Although a towing hitch is one of the things that a step bumper may do, that is not its primary purpose. A receiver hitch, on the other hand, was developed particularly for the purpose of towing, making it the superior option between the two if you want to conduct a significant amount of heavy towing in the future.
 
Can You Pull a Fifth Wheel With a Bumper Hitch? 
In a number of states, converting a bumper pull to a

fifth wheel hitch

may or may not be against the law. It's possible that converting a bumper pull to a 5th wheel would be less difficult than doing it the other way around.
Well, is it possible to use a bumper hitch to pull a fifth wheel? It is not only feasible, but it has also been accomplished in the past. The most important considerations will be the length of the trailer and the pulling power of the vehicle that will be pulling it. Even as a bumper pull, the weight of a 5th wheel is too much for some trucks to be able to draw. Another question is whether or not it is allowed under the law.
The majority of 5th wheel trailers have weights that exceeds what an SUV or a van is capable of hauling. Because of this, it is not possible to pull it off without a real heavy-duty truck that can do the pulling for you. If you are going to purchase a heavy-duty vehicle, you might as well obtain a fifth-wheel trailer instead of converting your current car into a trailer. You can bumper tow a fifth-wheel trailer with something called a safety hitch. But the question of whether or not this is actually practical for your situation is another one that you will need to answer.
 By using this hitch, you are effectively adding around 5 additional feet to your trailer in relation to its duration. Because of this, it could be trickier to handle when it comes to making turns and other maneuvers. It is possible that you will have more clearance if you use a safety hitch for a fifth wheel. This is one of the many benefits of doing so.
The TULGA bumper hitch attaches to the bumper of your vehicle rather than the frame, and it features a receiver tube that may accommodate a ball mount, cargo carrier, bike rack, or any other accessory that is mounted to a hitch. A bumper hitch allows for modification and versatility in towing application, in contrast to a bumper mount, which is simply a hole in the vehicle's bumper for inserting a trailer ball. A bumper mount is sometimes known as a bumper mount. TULGA receiver-style bumper mount hitches can pull up to 5,000 pounds of gross trailer weight and can support a tongue weight of up to 350 pounds. These hitches require a ball mount shank measuring 2 inches by 2 inches to function. A bumper hitch receiver that has a weight distribution system fitted may tow up to 6,000 pounds when properly equipped. Because of this, the bumper hitch is an excellent choice for towing a wide variety of trailers, such as boat trailers, utility trailers, pop-up campers, livestock trailers, and many others. It is important to remember, however, that the weight capacity rating of the bumper will always have a direct bearing on the weight carrying capability of the bumper.
 How do You Turn a Truck Into a Fifth Wheel?
Knowing the quality and physical conditions of the road you are going to use may seem a minor detail, but it matters. Rainwater is directed away from the roadways and into ditches along the sides of all roads in the United States. This is accomplished by placing the highest point in the roadway's center. When you are placing the receiver pin, you need to remember this important detail so that you prevent your hitch from fractions. Always insert the pin on the driver's side of the receiver tube so that the vibrations of the road will drive the pin deeper in place in the event that the cotter pin becomes loose, instead than letting it slip out accidentally. This is another reason why you should make it a habit to examine how your vehicle is set up for towing on a regular basis.
Weight carrying capacity and weight distribution capacity are the two ratings that apply to all frame-mounted hitches. When a ball and ball mount is utilized, weight carrying ratings come into play. There is information regarding the tow rating as well as the tongue rating. Never attach the breakaway brake cord to the ball or the safety chains; instead, attach it to the hitch that is mounted to the frame.
A towing vehicle with a maximum weight capacity of 8,000 pounds may possibly have a 5000 lb. A Hitch for carrying weight. If you use a weight distribution system, you can anticipate that the rating will be 10,000 pounds.
The major objective of the weight distribution system is to reduce and redistribute the weight of the tongue in order to prevent the front of the vehicle from being dragged from rising. It is less likely that this will occur if the vehicle being towed is both longer and heavier. The hitch rating can be increased with the use of this particular system. But note that under no circumstances may a ball mounted on a bumper be used. Always ensure that the frame-mounted hitch has safety chains attached. Contradict them.
Each and every hitch features a break-away brake system that is powered by a battery. Maintain a charged battery. You should attach the break-away cord to the hitch rather than the ball mount. Either raise the jack or remove the jack foot. Verify that a pin has been placed into the hitch in order to secure the ball mount and/or the weight distribution system. Check the nut on the ball mount that secures the ball to the ball mount. It is important that the trailer is level. If this is not the case, you should modify the weight-carrying hitch, the weight distribution ball mount, or the coupler if it is adjustable.
These are the brief instructions about how to install a bumper hitch on your vehicle and turn it into a fifth wheel. If you decide to undertake this task, you can visit our blog here to know every detail that will make the installation easier for you.
As you have seen, bumper pull trailers are available in a wide range of weights and sizes, and they may be hitched to a wide variety of vehicles, including vans, SUVs, and trucks. They are often lighter, which allows them to be towed by vehicles with a lower maximum towing capacity. Besides, bumper pulls are cheaper, shorter, and lighter compared to other hitch types such as gooseneck trailer. They do not occupy much space, so they open extra room for other operations. Bumper hitches will always be your savior on the road for these reasons and their practicality!
TULGA RV Bumper Hitch Receiver 2'' for 4'' Bumper Beams and Hitch Mount Trailer Towing Adapter for Cargo Carrier Bike Racks Towing deserve five stars for their quality, strenght, and affordability. With a considerable discount, you can ensure your safety with steel construction and durable bumper that fits all 4'' square RV bumpers. Besides, the products offer lower hitch point to privde level trailer towing, which is therefore suitable for the standard roads. If you are planning to expand your use, the receiver is also applicable to the heavy duties, with a receiver for 3500 lbs Gross Trailer weight, and a 350 lbs Gross Tongue Weight Rating. With the best quality and size options, visit TULGA Bumper Hitch Products before you turn your truck into an amazing fifth wheel.