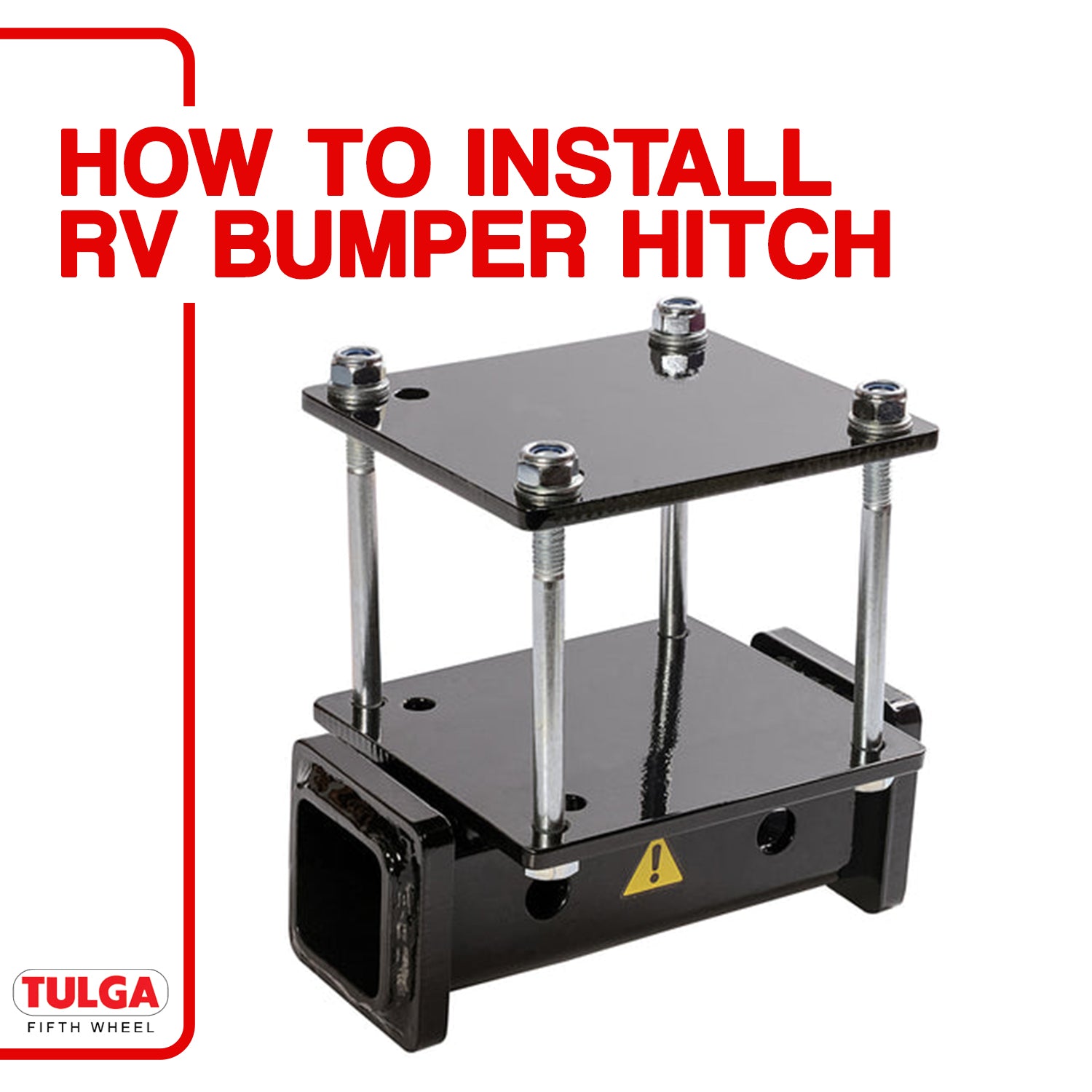 How to Install RV Bumper Hitch
Learn how to install a bumper hitch on your RV and improve your towing capabilities with TULGA's step-by-step guide. Our experts share valuable advice and techniques to simplify the process of adding a hitch on camper. Trust TULGA for all your fifth wheel hitch and bumper hitch needs.
You are going on a trip and want it to be a long, full of unforgettable adventures. You need to pack a lot of stuff with you, though. There is only a limited space in your vehicle to accommodate all of your vacations! Most vehicles are not designed to be sufficient to carry specific loads such as bikes, camping equipment, and furniture if necessary. So, adventurous characters prefer turning their vehicle into a "home" to maintain their standards during their vacations. Recreational Vehicle, or RV in short, is therefore getting wider and wider throughout the world. And as this fashion is becoming the common vacation or transportation trend, new modifications become necessary to make an RV  a comfortable place to travel and stay. But such modifications are not a big deal thanks to simple but considerably useful devices. Rv bumper hitch or also known as camper bumper hitch is particularly developed to answer the need of those who are looking for extra space.
An RV bumper hitch is basically an external equipment that can be installed on your RV's bumper. The bumper hitch has several additional pieces to be attached and detached on your vehicle, so you can easily remove it when you do not need or want to downsize your RV. This is the one of the advantageous features of the RV bumper hitch!
Why a Bumper Hitch?
While a camper bumper hitch can tow relatively heavy loads such as a boat or ATV, the bumpers of these vehicles have a reception limit. This is usually between 7000-7500 lbs and if exceeded, the bumper may be dislocated. Besides, the quality of the bumper is not the only determinant in choosing your towing device. The features of the road or land are equally significant when it comes to the stability of your hitcher. As the duty gets heavier and the road you are traveling on unstable, you may need a much stronger device for towing operations.
Semi-trucks most commonly feature a fifth-wheel instead of a bumper hitch. These devices are permanently installed onto the truck bed. A bumper hitch can also be converted into a fifth wheel hitch. However, the removability of the bumper hitch makes it a better choice as the fifth wheel may occupy a considerable volume of space. In this sense, a fifth wheel's function is not to provide an extra space like a bumper hitch, but to allow you to operate heavy duties. For more information, you can have a look at TULGA's fifth wheel hitch with its detailed explanation.

Can I put a bike rack on my RV bumper?
If your vehicle is suitable and designed to accommodate a bumper hitch, like an RV, there are two options if to install one. You may prefer either a step bumper hitch or a trailer, which is installed via a receiver. Each of these RV bumper hitches has different functions with alternative usages. The step bumper hitch is literally an external step-sized platform usually attached to the side frame of the vehicle. It functions as a step to get on the high vehicles, and also, with their large platform, they receive a considerable extra load.
These reinforced platforms can carry more than you would expect. And if you wonder whether you can load your bike on these or not… The RV Bumper Hitch Receiver for Bike Racks Cargo Amount and the Anti Rattle Hitch Tightener Stabilizer ensure that your bike will be safe and sound, firmly and steadily attached to your vehicle. With the improved bolts, the bike racks cargo amount's plastic installed nuts hold the bolts to stop wobbling overtime. Receiving up to 250 Ib tongue weight, the device is designed specifically for 2" tube bicycle bike racks, cargo carriers or hitch-mounted accessories. However, mind that this equipment is not for towing! The adapter of the stabilizer is made of solid steel and has a powder-coated exterior to resist corrosion. Thus, it prevents rattling, wobbling, rocking, and hitch movement for cargo carriers, hitch racks, bike racks, and trailer ball mounts. Always note that safety comes first, and the quality of your equipment essentially matters to provide this. 
What are the differences between the bumper hitch and a trailer?
The second option to provide an external-extra space for your vehicle is a trailer hitch campers often prefer. The trailer hitch has several differences from a bumper hitch in terms of its installation and the equipment required for this operation. While the bumper hitch looks more like a platform or a step, the trailer is basically and commonly a U-shaped frame with trailer balls for attachment. 
The trailer ball resembles a door handle placed on the main receiver. After the installation of the trailer receiver, the trailer ball is merged with the receiver like a locking mechanism, easy to remove. In this way, it provides a practical use of the bumper hitch. Specialized for this use, TULGA offers the new Class 3 Loaded Trailer hitch receiver with improved steel material. The 2'' polished trailer ball can tow up to 7500 lbs, and it can easily be screwed to the main receiver frame.
How do you install a trailer hitch on a camper?
The campers are designed to provide you with a home comfort by including furniture and basic spaces such as a mini-kitchen and a bathroom. However, these spaces have to be in their most concise form so that you can also fit your personal stuff in. And sometimes, especially in the case of long journeys, you have to use your RV as the conductor, and your camper as an extra space instead of squeezing all your stuff into a single vehicle. An appropriate-sized camper is all you need, which is easy to attach to your RV with a camper bumper hitch.
 A camper bumper hitch is usually in the form of a trailer, or a receiver hitch. This allows you to attach the trailer to your RV for towing. Its reinforced receiver accepts a certain size draw bar, each one rated for a specific weight class. 
To install the camper bumper hitch trailer, first, you must stabilize this receiver to the bottom of your vehicle via special nuts in the appropriate size. This is a basic measurement but maybe one of the most important steps of the process. Because if not stabilized, the receiver may slip from its attachment point when the road conditions are not good enough. A lot of vehicles come with mounting holes at their bottom to enable the installation. So in most cases, modifying the vehicle or drilling holes will not be necessary. In some cases, the vehicle may have no holes, and requires manual drilling. So you should check first whether your RV has these holes default. If not, by using leverage or a platform, you can drill the vehicle's bottom and stabilize the trailer receiver. Ensure your safety during this operation, as it may require some help. We recommend you use chops that will stop the trailer from rolling forward or backward. Make sure these are in place before you start the operation. Another important thing is that your bolts should be the proper grade that is specially produced for your bumper hitch. Because every type of bumper hitch is designed to be attached to a specific vehicle and bumper. Hence the necessary equipment for installation handles only the suitable force and torque.
Safety is the priority
Next, check out your hitch safety pin. If you have a locking pin, always make sure that it is locked and secured. Some may have cotter pins, which should be in place so it does not slide out. After raising the front of the trailer to get the ball underneath it by using stabilizers you should lift the tongue of your trailer. In this way, the trailer and the ball will easily and safely overlap. Have your track with the hitch nearby to gauge the height between the tongue and the ball to make sure you have clearance.
Finally, coming to the end! Now lower the weight of the trailer onto the hitch. Once you get the full weight of the trailer, you can slide the lock forward. But do not try this when you don't have the full weight, otherwise, you may struggle. When you get the ball fully seated inside the receiver, make a last control of all the safety measures. A lot of people have a pin that will go through to lock the hitch. But for much more improved security, you can prefer a padlock. 
Let's have a trial
It is always better to make a trial after you install your camper bumper hitch with different sized weights lest you have unexpected problems while you are ahead. Any slightest slip or detachment may result in serious accidents. For more information about the bumper types and to learn the easy steps on how to install a bumper hitch, you may visit our blog here!
Had your last controls already? Now it's time to get packed for a literally "heavy" journey with TULGA quality and safety!