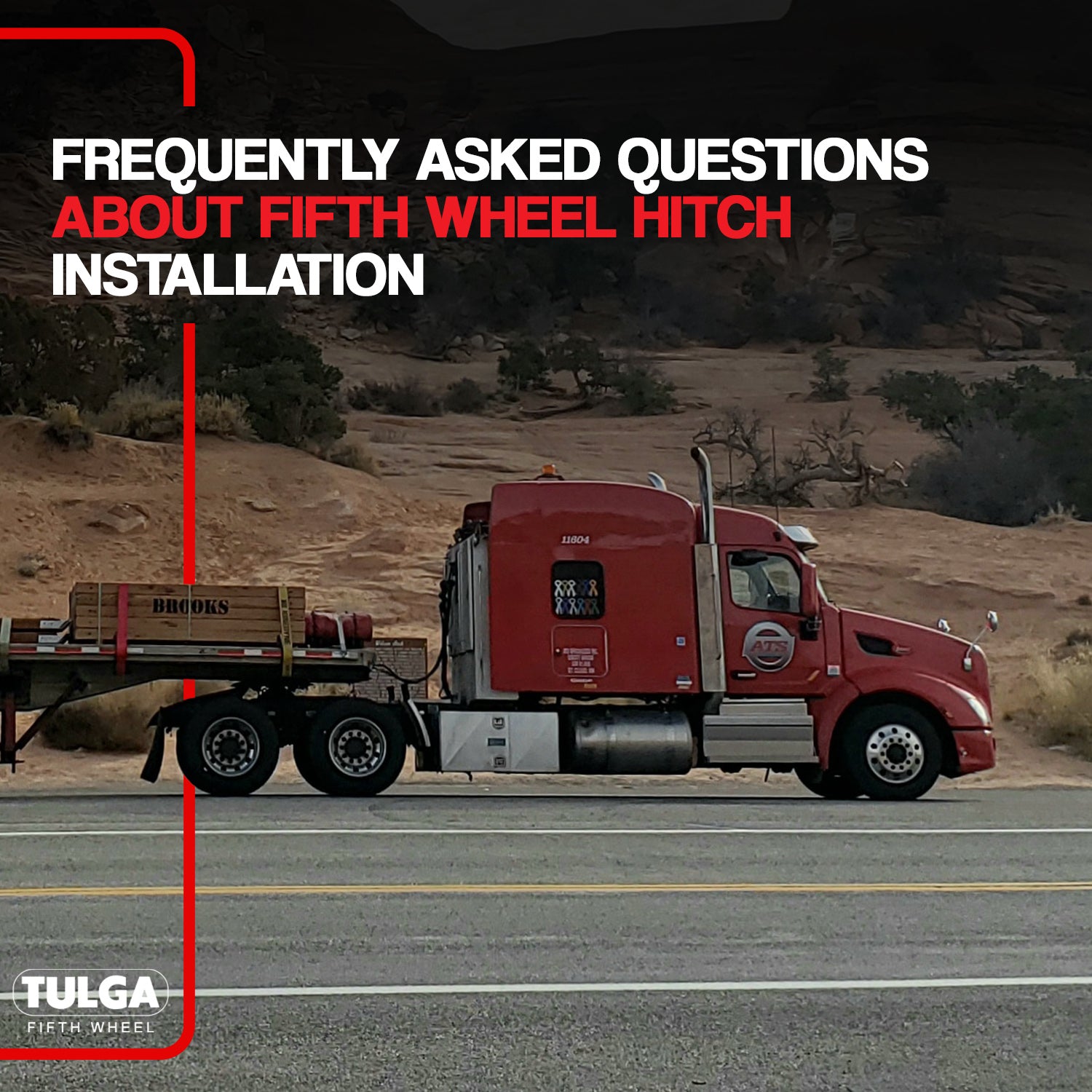 Frequently Asked Questions About Fifth Wheel Hitch Installation
Fifth wheel hitch production and marketing are getting wider throughout the country. According to the statistics provided by Statista, the "wholesale shipments of fifth wheel trailers from manufacturers to dealers amounted to approximately 84.9 thousand in 2022". This number is expected to duplicate this year as people opt for individual travels and accommodation due to the pandemic we faced in the last two years. And the more the fifth wheels are individualized the more it becomes a home for you. Therefore, you would probably prefer taking care of everything about your vehicle on your own rather than the aid of a professional. TULGA Fifth Wheel Hitch family explains every detail from the right fifth wheel hitch selection to its installation. These processes might seem challenging, but once you have gotten involved and learn more, you will enjoy every step. Now let us discover the most common questions installing fifth wheel hitch.
Is installing a fifth wheel hitch an easy or difficult task?
It is not a difficult task to attach the trailer hitch receiver to the bottom rear of the vehicle, particularly if you have experience working on cars or around the house. It should only take you about an hour to put on your own trailer hitch receiver if you do it yourself. Another hour or so will be needed to finish connecting the electrical harness. You might be able to reach under the vehicle without having to raise it if it is already lifted off the ground to a sufficient height.
What are the basic steps to install a fifth wheel hitch?
Installing a 5th wheel hitch to a towing vehicle is supposedly the most challenging process compared to its maintenance or selection. However, when you follow the basic steps carefully, it is not as complex and demanding as you would expect. Here are the basic steps for you if you are going to install your fifth wheel hitch by yourself:
Take off the spare tire, which is most likely under the bed of the truck.

Put the front base rail of the fifth-wheel hitch in place.

Mark the first place to drill and make a small hole to use as a guide for the rest of the job.

Check where the pilot hole is under the truck's bed before you drill the other holes.

Install the under-bed brackets to start attaching the fifth-wheel hitch to the truck bed.

Use bolts to connect the front fifth-wheel rail.

Find out how high the fifth-wheel hitch is, connect the legs, and put the rear rail in place.

Repeat the steps for drilling and attaching the back rail, and then put in the rest of the fasteners.

Before you use the hitch to pull a trailer, make sure that all of the fasteners are tight and securely attached.
Can I install the fifth wheel hitch manually?
If you have the appropriate tools, the installation of the vast majority of fifth wheel hitches can be done without the assistance of a trained professional. Tools such as a ratchet, socket set, crescent wrench, drill with drill bits, torque wrench, and drill are examples of the typical essential tools.
When you manually install the fifth wheel hitch, you should first check the installation instructions for the brackets, rails, and model of the hitch.

How much does it take to install a fifth wheel hitch?
You can install a fifth wheel hitch in as little as an hour or as much as 2.5 hours, depending on the level of experience you have. The installation of the bespoke brackets can take anywhere from forty to ninety minutes on average. The assembly of the hitch for the fifth wheel often only takes between 15 and 30 minutes. It is possible that an additional 20 to 40 minutes will be needed if your truck requires a roller or slider.
If the hitch is already put together, the installation of a set of puck system legs or an adapter may be finished in only a few minutes. This is because the hitch does not require any additional construction.
Where is the fifth wheel hitch attached?
Fifth wheel hitches are designed to be installed in the bed of a pickup truck, situated between the wheel wells, and placed either immediately above or just in front of the back axle. The installation instructions will provide you with dimensions as well as points of reference, allowing you to position everything perfectly.
If you aren't going to be pulling a trailer at the time, you can disassemble and remove a 5th wheel hitch from the truck bed base rails, then put it away in your garage, workshop, or storage shed.
How much does the installation cost with the aid of a professional?
When you install a trailer hitch on your vehicle, you open up a lot of new possibilities for yourself. When your vehicle is attached on your towing vehicle with the appropriate trailer hitch, you will be able to transport boats, go camping with your loved ones, tote items for the home or garden, and more. The installation costs for the most common types of tow courses begin at approximately $300 and can reach up to about $900 on the priciest end. The installation of a trailer hitch has an average cost of approximately $580.
When exporting a car, the cost of the trailer hitch on its own can range anywhere from $120 to $475. Between $180 and $380 is the typical price range for installing a class 1–4 trailer hitch. This range is the average cost. There is a price range of $350 to $900 associated with installing a trailer hitch.
But there are other expenses to be considered as well. In addition to the cost of the trailer hitch itself, the cost of installation can range anywhere from $180 to $230 for straightforward installations of a class 1 or 2 hitch, to $300 to $550 or even $750 for installations of a class 4 or fifth wheel hitch, which are significantly more involved. The labor rate for attaching a trailer hitch is anywhere from $50 to $245 per hour.
Do I really need to install a fifth wheel hitch?
The majority of people who own RVs believe that it is worthwhile to install a trailer hitch on their vehicle. Moving, cleaning, and transporting large items like appliances and building supplies to your house can be expensive endeavors. However, if you buy or rent a utility trailer, you may reduce these expenses and save money.
You can also pull a travel trailer with a trailer hitch, which is a pleasant activity that can expand your horizons and introduce you to new places. Should you make the decision to sell the car, the presence of a trailer hitch may be appealing to prospective buyers. Yet, the presence of a trailer hitch may cause some buyers to view the vehicle as having a lower value.
Shall I install a fifth wheel hitch or a gooseneck hitch?
A fifth wheel hitch is the best option for towing an RV, while a gooseneck hitch is the best option for towing agricultural and commercial vehicles. Fifth-wheel hitches improve the ride quality by making it smoother and more stable, although gooseneck hitches are more common because they do not obstruct the path of travel as much. It is more challenging to install and remove a fifth-wheel hitch from the truck bed. In addition to this, the cost is more than that of other products. On the other hand, gooseneck hitches have the potential to produce more noise.
When deciding between a 5th wheeler hitch and a gooseneck hitch, the first thing you should do is consider the type of trailer you will be pulling and the characteristics that are most important to you. Fifth wheel hitches are excellent at their primary function, which is to enable a vehicle to tow a trailer equipped with a fifth wheel. A gooseneck hitch can accomplish the same thing as a fifth wheel hitch, but the fifth wheel hitch was designed specifically for the task at hand. After all, it's spelled out in the very title itself.
If the main reason you need a hitch on your truck is to pull a fifth wheel, then I would advise you to stick with a hitch designed specifically for pulling fifth wheels. But if you want to haul many vehicles and trailers with the same truck, you should probably look into getting a gooseneck hitch instead of a conventional one.
Besides, when you acquire a fifth wheel hitch, it is usually accompanied by an attachment piece. They will be adapted to the specific needs of each category. You can have a qualified specialist install these for you, or you can do it yourself if you have the necessary equipment, skills, and knowledge.
Yet in the end, the choice is entirely yours to make! This could be a wonderful choice for you if you already have a gooseneck hitch installed in your truck and are considering purchasing a fifth wheel. If this is your situation, continue reading. Simply make sure that you never go above the weight constraints and safety requirements that apply to your truck, trailers, and hitch at any given time.