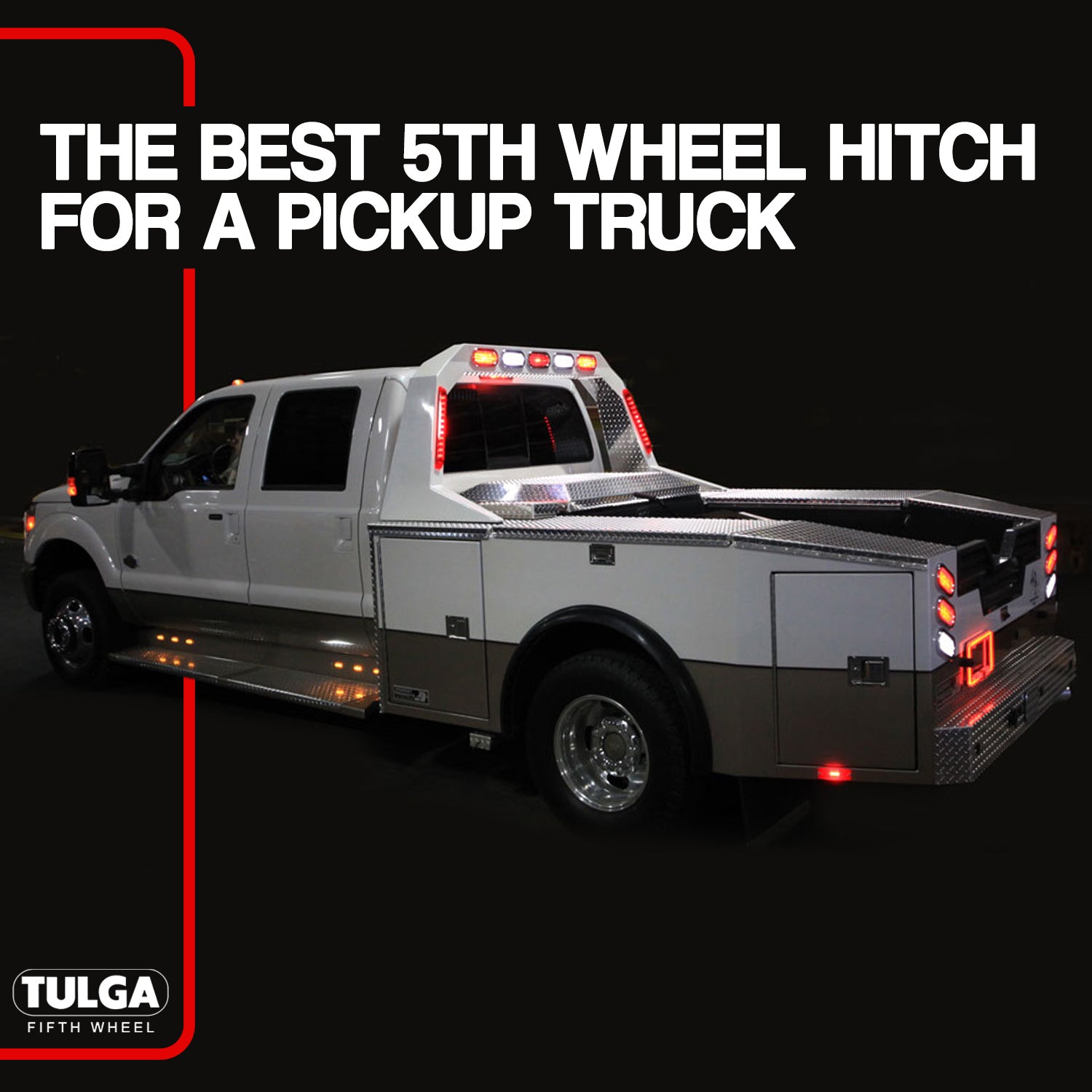 The Best 5th Wheel Hitch For A Pickup Truck
Manageable, accessible, and practical: A pickup truck, also known simply as a pickup, is a type of light-duty truck that comprises of an enclosed cab and a rear end that is composed of a cargo bed that is enclosed by three low walls but does not have a roof. This cargo bed back end sometimes consists of a tailgate and removable covering. Pickup trucks have evolved into culturally significant vehicles, and they are no longer exclusively used by farmers or tradespeople. These stalwarts have become popular among a diverse spectrum of subsets of the general public, and their use range from serving as utilitarian vehicles to making a fashion statement. This has resulted in the design of pickup trucks including features that are applicable to a variety of activities, ranging from urban to recreational to agricultural uses.
Thus getting more and more popular in urban settings, pickup trucks are now the most common towing vehicles for a fifth wheel companion. Simply attaching a fifth wheel hitch makes the pickup truck a complex and more practical vehicle, with additional function and space. In this respect, this article will provide you with information about pickup trucks and the best 5th wheel hitch that suits them.
Historical Pursuit: What was and what is a pickup truck?
Automatic gearboxes are standard on almost all of the brand-new pickup trucks sold in the United States and Canada. Manual transmissions are not offered on any other vehicles outside the Jeep Gladiator and the Toyota Tacoma.
A standard taxi cab is characterized by having only one row of seats and two doors, one on each side of the vehicle. Pickups with extended or super cabs have an additional area behind the primary seat, and they sometimes include smaller seats known as "jump" seats. Club Cab was the name given to the first extended cab truck that was sold in the United States. It was first available on Dodge pickup trucks and was debuted by Chrysler in 1973. Such as the Ford F-series and the Nissan Titan, contemporary extended cab pickup trucks have a set of small rear doors that are hinged to the back of the vehicle. These doors can only be accessed once the front doors have been unlocked and opened. Other contemporary extended-cab pickup trucks, such the Ram Pickup and Toyota Tundra, come with more typical and compact back doors. A crew cab, sometimes known as a double cab, can accommodate five or six people and has four full-sized doors that hinge forward. In 1957, International Harvester was the first company in the United States to manufacture a crew cab truck. Dodge, Ford, and Chevrolet all followed suit in the following years: 1963, 1965, and 1973 respectively.
In configurations known as cab-over or cab forward, the cab is positioned front of the front axle. Because of the way this configuration is set up, there is more room for freight despite the vehicle's total length. The Volkswagen Transporter, which debuted in 1952, was one of the earliest examples of a cab-forward, drop-sided truck. This layout is seen more frequently among manufacturers in Europe and Japan than it is in the United States of America. The design saw greater success in North America during the 1950s and 1960s, as seen by the widespread production of vehicles such as the Chevrolet Corvair Rampside and Loadside, the Dodge A-100 and A-108, the Ford Econoline, and the Jeep FC-150 and FC-170.
The size of the cargo bed might change depending on whether the vehicle is designed to maximize the utility of the cargo or the comfort of the passengers. The majority of them have side walls that are fixed and a tailgate that hinges. Step sides and fleet sides are the two most common types of cargo beds that can be found. Fenders on a step-side bed extend beyond the edges of the cargo compartment, giving the bed its name. Wheel wells are often installed inside of a fleet-side bed. The Chevrolet Cameo Carrier, which debuted in 1955, is recognized as the first truck to feature fleet sides. The beds of the earliest trucks were made of wood planks, but by the 1960s, steel had mostly taken their place. Some pickup trucks designed in the European style feature a bed that folds down into a flat tray and has hinged panels that rise up on the sides and the rear.
What Type of a Pickup Truck do I Need?
Pickup trucks are available in a wide variety of configurations, each of which is tailored to a certain use. From light to medium and heavy-duty to luxury trucks, compacts, conventional cabs, crew cabs, extended cabs, as well as electric and hybrid variants. Available in half-ton, three-quarter ton, and one-ton versions.
It is not uncommon to see pick-up trucks parked in executive parking spaces in the heart of the city as well as on farms, homesteads, dirt bike tracks, and driveways in the suburbs. The pickup truck was originally designed as a rural utility vehicle, but it has since evolved into a symbol of the automotive industry. They have even gained popularity in the more rural areas, and it is not unusual to see soccer mothers cruising the suburbs in one of these vehicles. Pickup trucks have developed into several different models throughout the years, each of which is suited to a certain purpose.
Light-duty Pickup Trucks
Local businesses such as electricians and lawn services, as well as individuals who own a pickup truck and drive it in urban and suburban environments, frequently used light-duty pickup vehicles in their work. They typically feature smaller engines, a shorter wheel base, and a more compact load bin than their larger counterparts.
The cabin of a light-duty pickup truck is outfitted with the same kinds of amenities that you would anticipate finding in a mid-range sport utility vehicle (SUV), and its expected driving conditions are more suited to on-road environments, such as city streets and highways, rather than unpaved terrain.
The majority of the time, they are only available in models with two-wheel drive. However, depending on the driving conditions that these vehicles are intended to be utilized in, they may be equipped with all-terrain capabilities such as differential locking. The suspension in these vehicles does not permit them to move huge loads, but they are excellent towing vehicles for small to medium boats and trailers because of their low center of gravity and high ground clearance.
Medium-Duty Pickup Trucks
Since they strike a healthy balance between power and size, midsize or medium-duty pickup trucks are ideally suited for usage in day-to-day life. These trucks are put to use by a wide variety of persons for an equally wide range of reasons. They are not overly large, which contributes to their agility and maneuverability. You can even park them in regular garages!
The fact that these pickups are considered to be of a moderate size does not indicate that they are weak in terms of power. Because of their compact size and ease of handling, they are a lot of fun to ride both inside and outside of the city.
These pickup trucks provide plenty of room for the family and an ample amount of cargo capacity, yet they are still easy to drive and park around town. This style of pickup can easily be used for everyday activities and can be used to carry cargo. In comparison to other types of trucks on the road, smaller pickup trucks are typically easier to operate. They are able to navigate through narrower passageways and may be easier to park.
Heavy-duty Pickup Trucks
Considerably large engine capacity are typically provided by large displacement V8 engines, which are standard equipment in heavy-duty pickup trucks. These vehicles are in a category all by themselves. Because of the suspensions that have been placed in these vehicles, they are capable of hauling larger loads than the other variations of the truck.
The remarkable towing capability of these heavy-duty pickup trucks is one of the factors that contributes to their popularity among those who own fifth wheels or caravans. They are also able to be used to tow larger boats and trailers that carry huge loads in order to make deliveries of an industrial magnitude.
The heavy-duty trucks typically have models that are designed to be driven off-road, and these pickups typically come equipped with features such as four-wheel drive, diff-lock, and several programmed off-road driving modes.
Which Type of a Fifth Wheel Hitch Should I Choose?
Note that whatever your towing vehicle is, there are several factors to consider when deciding on a fifth wheel hitch.
Calculate your 5th wheel hitch weight: The weight of your RV is the most critical factor to take into account when choosing the best fifth wheel hitch. When shopping for a fifth wheel hitch, there are two weight ratings that are important to take into consideration: the gross towed weight rating and the tongue weight. Find the federal certification / VIN label on the front half of your fifth wheel (it's typically on the left side). This sticker will tell you the maximum total weight that your vehicle can safely carry. On this label, you'll find the GVWR, which stands for the gross vehicle weight rating of the fifth wheel. Because it is imperative that the combined weight of your fifth wheel and its contents never go beyond the GVWR, you can assume that your hitch has adequate towing capacity if its GTWR is higher than the GVWR.
Determine your purpose of use: Your major aim in purchasing both your pickup truck and RV should be taken into account before making a decision about a fifth wheel hitch. There are 5th wheel hitches that may be removed, as well as those that are permanently mounted in the bed of the vehicle. If you only camp sometimes or if you use your pickup truck on a regular basis to transport other types of stuff, you should absolutely invest in a hitch that can be removed. On the other hand, if you are someone who lives in their RV full time and does not have any other hauling needs, a hitch that is permanently placed can be a smart choice for you.
Consider the truck bed length: When looking for the best fifth wheel hitch, one other vital factor to take into account is the length of the bed on your pickup truck. The clearance between the truck and the trailer will be reduced proportionately to the length of the truck bed. When there is less space between the truck and the fifth wheel, there is also a greater chance that the two will come into contact with one another, particularly when negotiating tight turns. Because of this, owners of fifth wheels who also have small truck beds should think about purchasing a sliding hitch.
Time to Choose the Best
Now that you gathered the necessary information about pickup trucks and the appropriate fifth wheel hitches, leave the rest in choosing between the best quality products to TULGA Fifth Wheel Hitch family. Trucks such as the Ford F Series, Dodge Ram, and Chevrolet Silverados equipped with TULGA's outstanding T10 fifth wheel hitch plates are the greatest options for transporting automobiles. 
A 5th wheel plate is used to attach the semi trailer hitch, tractor unit, dolly, or driving trailer to the towing truck. This connection is made possible by the hitch. It is imperative that the arrangement of the fifth wheel be installed at the base of an elevated truck, similar to a dragging vehicle. On the surface of the fifth wheel, oil is applied so that there is less contact. Your fifth wheel hitch will be protected from wear by this arrangement, which also reduces the likelihood of friction. The system is sometimes referred to as a turn-table when it is of the pivoting ball-race bearing type. The stability of the trailer can be improved thanks to the benefits offered by this coupler.
TULGA Fifth Wheel Hitch Corp. offers a wide range of sturdy and durable equipment at affordable prices. For a safe and reliable purchase, visit our website to go through the products that will assist you during your long journey on the road! Just "pickup" one and set off your dreams.