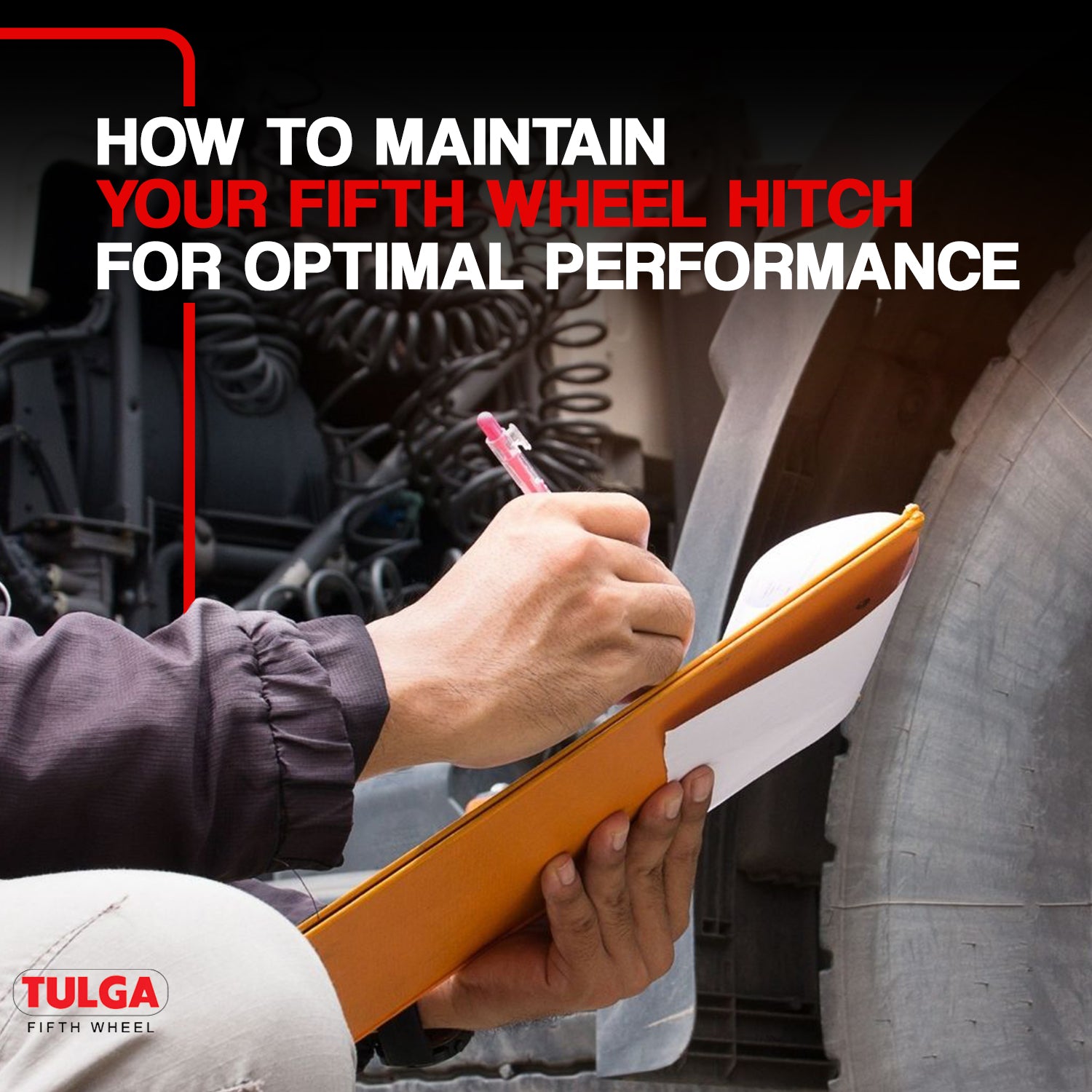 How to Maintain Your Fifth Wheel Hitch for Optimal Performance
You've probably heard stories about trailers separating from the vehicles that are pulling them and taking off, which can be extremely dangerous on the road. In point of fact, you might have worried that your vehicle's fifth wheel will become detached from it at some point and try to sort out the best way to stop this from happening. Or you might notice some corrosion on the surface parts of your fifth wheel units. These are prevalent instances among fifth wheel owners due to the material of their vehicles. Although they are indications of weary and a need for maintenance, these signals call for an examination lest an unexpected accident occurs. If you keep up with your fifth wheel hitches maintenance, there will be less of a chance that your trailer may come unhitched while you are driving. It is recommended that this component be inspected and maintained once every three months or 50,000 kilometers due to the amount of weight that is placed on it.
The following are some suggestions from TULGA Fifth Wheel Hitch for keeping your fifth wheel hitch so that it continues to operate in an efficient manner.
The Lifespan of a Fifth Wheel
At a minimum, you should expect your travel trailer to have a lifespan of ten years. It is possible that you could add anywhere from two to five years onto its lifespan if you look after it properly. However, if they are correctly and regularly maintained, some types of travel trailers have a lifespan of up to thirty years. Remember that the lifespan of every vehicle is based on a cause-effect relationship; if you cause damage to your fifth wheel by not doing the regular controls and maintenance, it will indicate this by several errors in time.
When compared to utilizing a full-fledged motorhome, using a fifth wheel camper has a number of advantages, including a larger turning circle and the ability to quickly disconnect your tow vehicle so that it can be used on its own. However, because of the distinct manner in which the weight is distributed and the manner in which the rig travels as a whole, it is necessary to perform certain maintenance in order to guarantee that you and your fifth wheel will arrive at your destination without a "hitch."
If this will be your first time towing a fifth wheel, you need to check that both your tow vehicle and its hitch are equipped to do the job. The most important factor to take into account is making sure that the Gross Vehicle Weight Rating of the truck is at least ten percent higher than the total weight of the trailer along with the weight of the trailer tongue. Because of this, your vehicle's fifth wheel hitch will not be able to exceed the amount that it is capable of towing. Towing the vast majority of campers equipped with trailer hitches will call for a truck with a minimum of 3/4 tons of towing capacity.
You should also think about how long the bed of the vehicle is. It is necessary to leave some room in front of the hitch in order to avoid having the trailer run into the back window of the truck cab. A slider hitch, which allows you to move the connecting point forward or backward depending on your needs, might be something you need to invest in if your pickup truck has a bed that is shorter than average.
There are a few things you should do on a regular basis to ensure that your fifth wheel and all of its components remain in good shape. This will help you avoid any problems with towing and will keep you safe. The trailer hitch is an important component that should not be overlooked. Examine, lubricate, and perform a comprehensive check of the hitch for any signs of damage or missing components before attempting to attach it to your truck. Before embarking on a trip, you should also check the torque and ensure that any nuts or bolts have been adequately tightened. This will help ensure that you do not become accidentally unhooked. In the event that your vehicle does become disconnected, you are obligated to check the condition of both the breakaway cable and the lock.
Check the Wires Regularly
Because fifth wheels are equipped with their own brakes, it is imperative that the brake wires on the trailer be inspected at least once every half a year. Remove the wheels so that you may thoroughly clean and inspect the brake pads and drums, as well as repair any components that are damaged or have become worn. Additionally, you need to pay attention to the wheels of your vehicle. It is recommended that the wheel bearings of the trailer be cleaned and inspected every 13,000 miles so that you can be sure they are still operating correctly. If you give the suspension and axles a quick once-over, you should be good to go for a trip across the nation.
The Working Mechanics 
When it comes time to tackle the open road, there are a few more things to take into mind. Because the arc of the trailer will be within that of the truck, the trailer's wheels will not follow the wheels of the truck around a turn when you are driving your tow vehicle with a fifth wheel. This is one of the most significant differences between driving your tow vehicle without a fifth wheel and driving it with one. When it is time to make a turn, you should drive as far into the intersection as possible before making the turn in order to provide the fifth wheel with more room to negotiate around the corner. This can help you avoid curbs and other hazards that may be present on potentially hazardous paths.
When driving through traffic while pulling a fifth wheel trailer, you are required to give yourself more room than usual for your own safety. Because you need as much stability as possible when towing a huge car, you shouldn't be hesitant to slow down when it's absolutely necessary to do so.
Important Note About Greasing
Because the multiple metal components that make up a fifth wheel hitch collaborate with one another to ensure your safety while driving, you should do routine maintenance on the hitch. You do not want the hitch release to get stuck, nor do you want the wheel to turn too noisily when you are driving. Lubrication not only safeguards the components that make up the hitch but also makes each connection simpler by enabling the elements to move more easily.
The fact that the fifth wheel is the only component that is attached to the vehicle that pulls it means that it is very important to do routine maintenance in order to keep everyone safe. Lubrication and other maintenance tasks are recommended to be performed every three months by the original equipment manufacturers (OEMs). You will be able to inspect the fifth wheel hitch four times a year if you grease it at the beginning of each season. This may help you avoid damage that could have been caused by a dry connection.
Eliminating grease is a significant step of this routine maintenance that must also be performed. Don't just add additional grease to the fire. First, remove the old oil, then inspect the component for any cracks, holes, or other damage, and last, add the fresh oil. It is essential to degrease, particularly in the winter, to prevent the accumulation of road filth, which can cause it to freeze solid. After winter, it is important to thoroughly wash the 5th wheel hitch in order to remove any anti-rust and anti-corrosion solutions that may have been applied to the roadways.
As mentioned above, weather conditions and seasons are other significant factors that affect the lifespan of your fifth wheel. Both winter and spring are challenging seasons for fifth-wheel trailers. When it is cold, grease thickens, which can cause moving components to stay together, making it difficult for things to work correctly and occur at the appropriate moment under the top plate. This can also cause problems if the moving parts are already stuck together. However, winter does have one advantage over other seasons: the weather is typically wet, and water is one of the most effective lubricants that can be found anywhere in the globe. When spring arrives, the muck that was under the fifth wheel is also gone because the roads have dried out. The instances of sticking and binding are at their peak at this time.
Fifth wheel campers have the potential to be an entertaining and comfortable means of transportation if they are properly cared for and maintained. To keep track of all of the required maintenance for your fifth wheel, prepare your maintenance checklist, by which, you will be able to plan ahead for and keep track of any services necessary to maintain your mobile home working safely and effectively no matter where life takes you.
After doing every step of these maintenance procedures, now you are ready for the call of the roads!