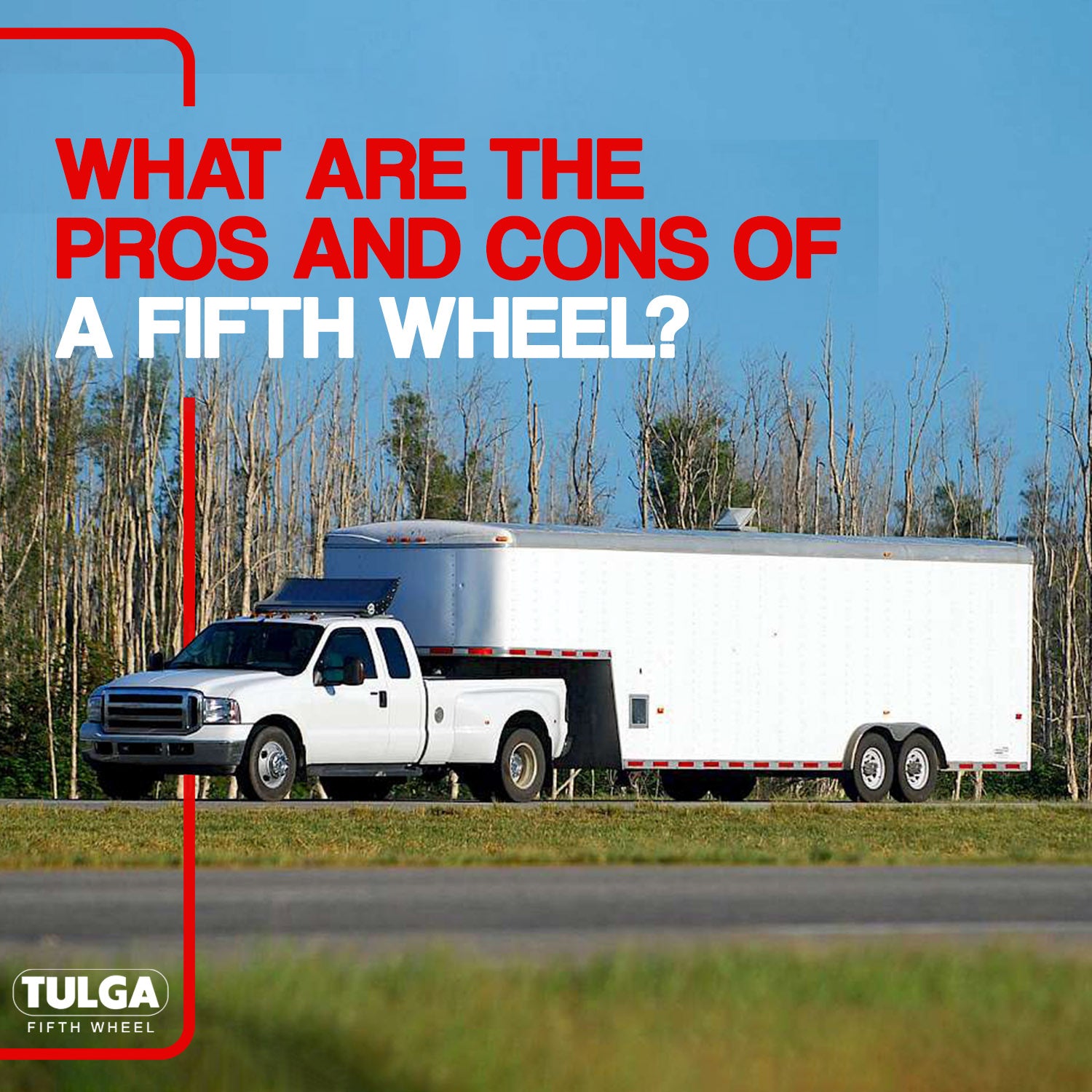 What are the Pros and Cons of a Fifth Wheel?
If you are planning to experience a long-term travel spent in a vehicle, there are many different styles to choose from when looking for an RV or camper. While some RVs are equipped for a lone off-road excursion, others are made to provide enough room for a large family. What you intend to do with the camper, how many people you'll be traveling with, and where you intend to take it will all have a big impact on which type is best for you. 
Fifth wheel campers are one popular option for travelers of all stripes. A camping trailer known as a 5th wheel camper is hauled by a truck and connected to the truck using a hitch located in the middle of the truck bed. With this connection, you can add the necessary extra space to the pivot vehicle. 
However, a fifth wheel means "more" considerations in every term, and these may not always come as practical features. Consider both the advantages and disadvantages of this camper style before making your final decision regarding whether or not a 5th wheel is the best choice for your needs. The pros and cons of the fifth wheel for different functions are briefly discussed in the following quick guide, which will aid you in deciding if it is the best option for your requirements.
Beginning With the Pros 
5th wheel campers, which have long been favored by outdoor lovers, make it simple to take the entire family camping in comfort. These campers, which come with numerous features and comforts, rapidly turn into your second home. Here, we use the word "home" in its very literal meaning, thanks to today's new type of fifth wheels. To make an illustration, these cabin-like homes include a well-equipped kitchen, a comfortable portable bed, a sufficient bathroom, and a practical living space. 
If you have a large family or plenty of people to accompany you during your travel, such a home becomes a necessity. Here is a detailed list of several other features of the 5th wheel that you would expect from a multifunctional vehicle.  
Make your tow vehicle more than it is
Outdoor enthusiasts have traditionally loved fifth wheel campers because they make it easier to take the whole family camping in comfort. These luxurious campers quickly become your second home thanks to their many conveniences and comforts. Thanks to today's new technology, we use the word "home" in its most literal sense here. You can only use an RV for the purpose for which you buy it. You would hardly ever use your RV to run errands in town. Additionally, you won't want to relocate the RV once you've made camp with it in order to rush back into town or to reach a lake or trailhead close by. On the other hand, a 5th wheel camper can be towed by a truck that also serves as transportation during and after a journey. Even if you have to leave the campsite to fetch something or in an emergent situation, it's no problem. You can just get on your tow vehicle and leave everything set up at the campsite. Your pivot transporter still serves as an individual vehicle while your camper is stored.
One significant advantage of the fifth wheel camper is that it is much safer than many tow-behind trailers in terms of operation. This feature has to do with the attachment of the fifth wheel hitch to your truck. If you know the basics, this procedure will become an easy task for you. You can have a look at our blog to see detailed information about the fifth wheel hitches. While installing your fifth wheel, the bed of your truck supports the weight of a fifth wheel camper with the help of a 5th wheel plate. This simple device receives the force while towing. Therefore, it can be considered the most essential unit and, therefore, must be the best quality. TULGA's fifth wheel plate is designed to minimize the potential detachments on heavy duties or rough road conditions. The hitch plate is exceptionally sturdy to receive sudden forces. Plus, it makes it simpler to maneuver the trailer and, as a result, is more stable when moving.
A fifth wheel trailer is a great option for big families or for those who love traveling with a crowd of friends. However, accommodation is usually the major problem when gathering several people. To solve this problem, the fifth wheel features a lofted sleeping area located above the truck bed. Typically, this extra room is intended to be a master bedroom or a multi-bunk area. Additionally, slideouts, which can be furnished with even more sleeping possibilities, are typically found on 5th wheel trailers.
Advantageous in Many Ways
The comforts that a fifth wheel camper can provide are virtually endless. They have enough area to accommodate all the accessories thanks to their spacious bodies, which don't need any room for engines or driver cabs. A fifth wheel camper is a great option if you yearn to take your kitchen with you or can't live without your own bathroom. Especially the recent types of fifth wheels focus on the interior equipment. Accordingly, you can even find very recent technology products of domestic appliances. Designers want to fit as much stuff as possible into a very limited area, using it most efficiently. With this aim, the new trend is to keep every item minimal and practical, furnishing it with additional functions. 
When you buy an RV, you agree to maintain a second vehicle. This requires twice as many fluid changes, oil changes, and routine car maintenance. You simply need to maintain your truck when towing a 5th wheel trailer. But fortunately, a 5th wheel trailer requires less care than a conventional motorhome. There are still certain maintenance chores involved, such a replacing worn tires and lubricating moving parts, yet these are easy to manage since it doesn't have a complex motor system as your tow vehicle has. You can find more information about fifth wheel hitch maintenance on our blog here. 
A Way of Commencing Your Own Job: Hotshot Trucking
This is an additional advantage of the fifth wheel other than its function as a camper. Hotshot trucking is a self-employed job, which is getting more and more popular among truckers. The major opportunities the job offers are self-employment and mobility. The only things you need are a fifth wheel and a convenient destination. Once you obtain your fifth wheel according to what you are going to deliver or transport, it is easy to decide where to conduct your job. Distinguished from traditional transportation, the hotshot trucking via a fifth wheel gives you the freedom to work where ever you want. Besides, it is considerably faster compared to the single vehicles with big trailers.
What About the Cons?
While it is quite understandable why so many people adore 5th wheel campers for their outdoor experiences, this type of RV has a few disadvantages. These can depend on the purpose you want to use your fifth wheel for or the physical conditions of the roads, streets, and landscapes. Nevertheless, it is a must for you to know the challenges and drawbacks of having a fifth wheel before you purchase one. Consider the following potential disadvantages of buying a fifth wheel:
No Towing Without a Suitable Vehicle
The size of your personal vehicle is not necessarily a determinant when you buy an RV because you won't be pulling it. For instance, you may commute every day in a compact Toyota Corolla or even a smaller car. However, you must make sure you have a truck that can tow the trailer before choosing a fifth wheel camper. Because note that not every type of truck is capable of receiving heavy duties on possibly rough roads. First, you have to calculate the capacity of your tow vehicle and fifth wheel to find out whether the former is suitable to carry the latter. The trailers need a convenient truck that can safely stop the trailer as well as carry its weight. If you don't currently own the appropriate vehicle, you might need to make another purchase. 
A Separate Unit as a Living Space
It is crucial to understand that when driving a fifth wheel camper, you will be cut off from your living space. You can't just pull over, run into the back of an RV, and jump back into your seat like you can with a single vehicle. The 5th wheel's kitchen, bathroom, and bedrooms is designed to be accessed by getting out of your truck and going inside. However, if everyone chooses to remain inside the camper, you can feel lonely. 
While the extra space provides you a comfortable travel, you'll need to find somewhere to keep the trailer when you aren't using your fifth wheel camper. In contrast to a tiny camper van or pop-up trailer, fifth wheels occupy a fair lot of space. This can necessitate paying off-season rent for an RV site or storage facility.
Make Your Choice!
Not that we have listed the potential pros and cons, it appears that the fifth wheel is quite advantageous despite several challenges it brings about. Still, these are not unsolvable when you really want to make your journey comfortable, cozy and personal. Once you make your decision, we are always ready to present the best quality equipment for you!